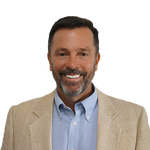 Patrick James is a dedicated and knowledgeable Orlando real estate agent who can provide you with the highly specialized information that will help you make the right decisions. It's the combination of this unique market-knowledge and excellent negotiating skills that enable him to get you the optimal price for any property you plan to sell or buy. Clients can always trust Patrick to be "in the know" on any new trends in the market and any new regulations and laws by keeping up to date of continuing education with the Board of REALTORS and utilizing in house trainings offered by Olde Town Brokers.
Getting his start by renovating homes with his brother, Patrick became a real estate agent and joined Olde Town Brokers at its beginning in 1994 giving him 20 years of experience living, working and excelling in the Downtown Orlando and Winter Park neighborhoods. He is passionate about helping his clients finding homes that are just right for their families as home and family are some of the things he values most. He is a newlywed having recently married his better half of 14 years, can be found participating in the Central Florida Softball League and taking an active role in fundraising for Libby's Legacy Breast Cancer Foundation and other charities. A fixture of Thornton Park, he can be seen most mornings walking his 2 dogs Ruby, Bella around Lake Eola.
As a real estate expert in the Orlando area, Patrick can provide you with helpful insights about the area, and can show you why Orlando living is truly something to be desired. With a professional yet friendly approach, he helps clients feel comfortable about what can be one of the most stressful times in life. Trust is hard to come by in today's fiercely competitive real estate market and he is here to provide you with the professionalism and integrity needed to ensure that you feel secure in what can be one of the biggest decisions of your life.
Patrick James 's Listings